This guy looks really scary!!  But we met him while he was putting his make up on, so we knew he was ok! He had trained for 10 years to become a Kathakali dancer.
This week marks one year of travel for us! To celebrate, we are doing a wander down memory lane. Check out 99 other memorable people we met this year:
A young backpacker with scooter exhaust pipe burns all up her legs. One of many.
A free diver named "Soup" who free dove to meet Chris at 18m and freaked him out.  He had fins longer than Chris's arm!!
A well spoken and educated Cambodian guy who had been a 'sponsor child'. He organised our trip around Battambang.
War photographer whose replacement in Syria was recently killed.
A Vietnamese man who fought with the Americans against the Viet Cong and spent seven years in jail as a result. When he told us how hard it was, he was insistent we did not publish his photo, for his own safety. We'll just show you his arm.
A Thai woman who works in a restaurant 12 hrs a day 7 days a week, and then online at night.
A volunteer naturopath at a birthing clinic teaching local women about better nutrition and health care.
A guy on Otres Beach in Cambodia who fought against the Khmer rouge and had shot a bunch of people. He was teary  when he met Sparky, he said he didn't know the right words. He is what I'd call 'acquainted with grief'.
A friendly traveller in Phnom Phen who did a photowalk with Chris.
An American 'digital nomad' showing the wonders of Burma to her 11 yr old niece.
A Japanese swimming teacher who had retired in Penang. He gave our crew a quick lesson.
An 11 year old girl from the UK with profound cerebral palsy and blindness. She was traveling around Cambodia.  Last year she and her mum spent three months in India and like us, they travel with an off-road wheelchair and a hand blender. Amazing.
Romanian family doctor traveling with her hubby and three teenagers who treated my kids homeopathically twice with instant results. Here's their youngest playing with Tintin. We had two great weeks together in two different countries!
A retired English school music teacher volunteering in Thailand.
A Turkish restaurant owner in Ubud who has 18 siblings!
A German lady who bought a motorbike to ride from north to south in Vietnam, that is she bought it, her boyfriend does the driving!
An Australian guy who married a Vietnamese lady and built a farmstay together.
An Australian journalist/traveller who interviewed our family, and coped just fine with how the children all talk at once.
A chef from Malaysia who ran a guesthouse in Cambodia and was busy introducing southern American BBQ with 'slaw. He had cooked on cruise liners all over the world.
A guy who ran a cool restaurant with guitars for guests to play in Hoi An. He told us he danced nightly in the street we went to see him perform.
A lady who had lived all her life in a Balinese family compound, she was nervous about moving in with her husband's family 'so far away' in the next village.
A really slimy annoying guesthouse owner in Cambodia. We hated the patronising way he spoke to his staff.
A taxi driver in the  Cameron highlands. He'd been driving the same Mercedes since it was built in 1971. On Fridays all the taxi drivers would wear matching brightly coloured batik shirts for fun.
The Rojak man. This guy enjoys his job more than anyone else we've met.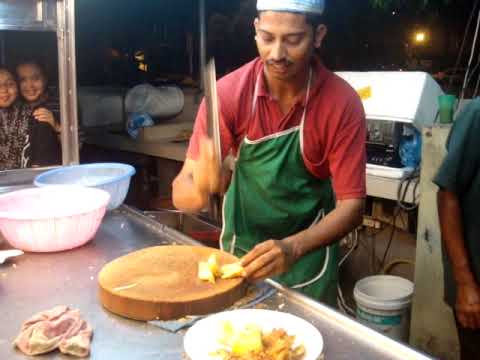 Four  American peace corps volunteers touring the Cu Chi tunnels built by the Viet Cong. They were feeling pretty bad about being Americans.
A Loatian buddhist monk who went to Chiang Mai Thailand. He decided to continue being a monk as it was the only way to access tertiary education.
A family of ex-Mormons on a quest to work out who they are and what they believe and value and doing it with an integrity and intellectual rigour we admire.
Two Australian ladies on a chauffeur driven tour of Vietnam; "we got really streetwise, y'know. 'cos we, like, went to the same market twice."  We named them Kath and Kim.
An American PhD candidate researching the role of sport for girls and young women in teaching them about life skills. She invited us to the women's soccer finals in Cambodia.
A business woman with a disability selling bookmarks in Phnom Phen from her wheelchair.
A Cambodian woman who runs a profitable dressmaking business with 5 others. She learnt a whole swathe of skills from an Australian who chose to volunteer in a way that empowered and did not rely on her ongoing expertise.
A Canadian/Australian family setting out to open a dive shop and an eco-community on a remote island in Indonesia.  We shared pizza and travel stories together.
A couple volunteering with children with disabilities who oddly pitied us and thought traveling with Sparky would be 'burdensome'. Don't worry we set them straight!!
A Vietnamese amateur photographer who was denied access to France simply because of his nationality. So his wife, the creative writer behind the dropout diaries and daughter took their much anticipated trip alone.
The manager of a restaurant on a Thai island who taught himself Dutch in the off-season by watching Dutch soaps on cable.
A shoe repair man who greeted our children by name after he fixed Meena's shoe for $1.
A Thai song throw driver who recognized us and knew where we lived. He stopped his amazing game of Sepak Takraw to take us home.
An Austrian woman who took her slackline all over the world. Some of our kids had a turn!
An Irish car licensing inspector, he had the same name and accent as Tintin's choir master at home. We compared sunset photos each evening.
A Malaysian guy who told us how unhealthy roti is and runs a breakfast restaurant selling juices and smoothies after morning yoga. We know its unhealthy, far out it tastes good!!
Retired English couple who drove around Australia with a caravan in the 70's, with their children. They were visiting their son in Vietnam and we sat together on the train.
A Hungarian backpacker we met at our dodgy hotel in Singapore. She was the first of many who offered to mind our children so Chris and I could go for a walk together alone. We have yet to take up a single offer.
The ever-so-friendly Joshy who taught Baby Boy how to give people kisses on their hands.
A Balinese couple who had to drive from Uluwatu to Sanur for a wedding and were exhausted at the thought of being a whole hour in a car.
A Belgium backpacker who borrowed our laptop, she hadn't downloaded any photos, just kept buying data cards. She had remembered us from a beach in Cambodia 4 weeks earlier!
Mr Pokia, our tuk tuk driver for Ankor Wat. Pokia 'rhymes with Nokia' he said, proudly pulling out his phone.
A German couple who were driving around Asia in a motorhome. They had been 7 months in Cambodia alone. Apparently border crossings with a vehicle are a red tape nightmare.  I love living on the road, but cooking for myself has very limited appeal in SE Asia!!
An English guy who looked and sounded just like Jeremy Clarkson from top gear, he was taking promotional photos of his son who is an English pro surfer. Who knew the English could surf?
Volunteers teaching english in a remote Cambodian village, they had just come back to town for the weekend and for beer.
A Danish couple and their two blonde kids, backpacking around Thailand. Like me, she was breast feeding and losing weight, despite eating all the good stuff!  Like us, they'd skipped the temple, and spent time letting the kids run around in the park.
The lady who begs every night on the tourist drag in Ubud, and her toddler.
A Welsh couple Nicky and Richard. Nicky is a postie; you would not believe all the things she has found in the letter box!
A Vietnamese lady who did her PhD at Adelaide uni in Australia. Unfortunately she translated for us, and so we knew the train conductor was cross with us for making a mess. Without translation we would have just smiled and nodded and been none the wiser.
A moto driver who set up a school in Battambung to teach local kids. I'm pretty sure he was scamming. If he ran a school, why would he spend his time on the streets talking to tourists and inviting them for a 'free' visit?
A Balinese lady who has a son with Cerebral Palsy. She held Sparky's hands and cried as she told us how the doctors cannot help her son.
A Malaysian backpacker owner who grew up as a 'third culture kid' the child of a diplomat. He spoke bits of so many languages. Not many Malaysians make it to Oktoberfest!
An Australian ex naval officer who once spent 6 months inside a navy vessel without sunlight.
A fascinating man who strove to learn languages. Here he is in Mongolia, having a quick Bahasa Indonesian lesson from Chris. What is that guy at the back thinking?
An Irish/Swiss retired couple who travel 6 months a year on $30/ day. We braved the round boats together.
An Austrian social worker having a three week holiday from her challenging job with children in institutional care.
A lawyer with the UN, working on the defense of Khmer Rouge leaders. 'someone's got to do it'.
A friendly lady building a house by a river in Cambodia, with her daughter 'Bodia'
Hannah, a blogger and graphic designer . Would you believe she is about to drive a tuk tuk 3500km across India? It's to raise money for clean water projects. Check it out
Missionaries, we can't name them, and we can't give their location. We absolutely can't show you their photo. But they are bringing freedom and hope to a very oppressed people group.
A girl from a minority tribal village  who wanted to be a doctor when she grows up.
An elderly lady collecting rubbish who told me how lucky I am to be traveling with all my children. I agreed.
A woman from aminority tribal village who had 12 children, 6 of whom had lived.
A French speaking African lady who was missing her niece and nephew terribly. We walked around Ankor Wat together, and she seemed to draw energy from our bouncing collection of children.
A tuk tuk driver who's twins were born at 7 months gestation, and did not survive.
Tintin's friend from Kerala. They spend a week together.
A Balinese entrepreneur with great english, who had been to Australia. His name was 'Leroy', which is absolutely not a Balinese name!
A Malaysian couple from Johor Baru who have a child with Cerebral Palsy and wanted to know how we made Sparky's head support collar. We were all exploring the tea plantations in the Cameron Highlands, but their son was 'at home with the helper'.
A Danish couple with amazing British accents, and gorgeous blonde kids.
A guy who had just finished making a tv series, and was inviting all the people he'd just met to come and watch the fist episode live from his beach hut on Koh Phangan.
A man who was studying yoga on Koh Samui. He lifted his own wheelchair, and crawled up the gang plank onto the ferry.
A lady my Mum's age, who looked 20 years older. She had 10 children. We compared stretch marks.  She gave me a $10 back massage on the beach, with an almost pleasant combination of coconut oil and sand on her rough hands.
Two Australia ladies volunteering with Bali dogs, they spent each day at the animal shelter, and brought home puppies and kittens at tonight who needed over night feeds. All our kids cuddled the baby animal to their hearts content.
My newest Nephew Jack! My brother and his fiancée were in Uluwatu at the same time as us, and we got to meet and cuddle this darling boy.
A Chinese urban planning student on her way to apply for a green card to pursue her studies in the USA. She said, and how's this for an understandment, 'China has a few environmental problems'.
A farmer from New Zealand who'd just done 2 years' work in the UK, and was looking for work in China's emerging dairy industry. He was so bad at eating with chopsticks, he'd lost 4 kilos!
The most good looking septuagenarians we've met. A gorgeous french couple traveling around China. We shared a bus and  taxis to our mutual hostel in Hangzhou, and each had a barney with reception staff, the funny things is we were the ones who got told 'hostels are for young people'.  They bought us pastries from the 'French patisserie' and let us use their ensuite. And they didn't laugh at my French, either.
An Australian lady revisisting India after 30+ years!!  Wow, she lived here on $1 a day for a year in 1979. We pottered along the Kerala backwaters together.
A friendly Hippie who has been in India 10 years, living in caves, speaking Hindi and adopting a new name and religion. No trace of her original accent! Her son made a great playmate for our children for a couple of weeks.
A man who was miraculously healed by Jesus of one-sided paralysis from a stroke. He was now walking and talking absolutely fine.
A local police constable who had the same camera as Chris. He told us where to go for camera repairs.
A tax official who befriended Sparky while we stood and watched a giant fish net being pulled in on Palolem Beach in Goa.
Baby Boy's doppleganger. How cute is this?
Tarkhan, a Hindi speaker from Delhi managing a Mexican restaurant on the beach in Goa.
A Vietnamese artist. Her disability is a result of naplam bombing affecting her pregnant mother.
A Cambodian who moved to the USA just prior to the war. He returned to Cambodia 30 years later and set up a horse riding ranch, employing and training local staff, and employing local young people.
A group of Irish medical students, who had just completed a practicum in Guangzhou.   They had learnt so much about traditional Chinese Medicine despite observing clinics all in Mandarin. We climbed the Great Wall together.
In Shanghai, a man heard Sparky's terrible cough (all that pollution is terrible)  He gave us instructions at length about a certain type of herbal tonic we should buy her. An hour later he found us walking the Bund, and he had gone and bought a box of it and gave it to us.  The whole conversation was in Mandarin. We thanked him, and went home and all drank some of it! (after googling the ingredients!)
French agricultural students doing thier practicum on a ranch in Mongolia. They worked hard!
Martin- the chief of the ranch!
American backpacker who'd just done a 10 day retreat of silence. She showed the children her camera, it had this stuff inside in called 'film'. Blew their minds!
A sociology lecturer researching values education for children all over the world. She interviewed ours.
We met so many more people, but I hope this has given you a glimpse of the richness of the traveling experience. Who have you met lately?
Related posts: