So, we thought we had come up with a pretty good solution for an all purpose travel wheelchair for our lovely nine year old daughter, Sparky, who has Cerebral Palsy. You may have read about how we put it together here;  We've received so many questions about the details of our solution, hopefully the following is useful to some and not too boring for others! Even if you are not a wheelchair user, there is a cool video and Sparky's great interview.
How does the wheelchair actually work? Any problems with it?
Sparky's off-road travel wheelchair is the sum of two parts; the Chariot wheeled base and the seat which fits inside the Chariot.
The Chariot
Well, Sparky's Chariot drives very well. It can do bumpy, uneven, muddy, wet and slippery paths no worries. Here's the video: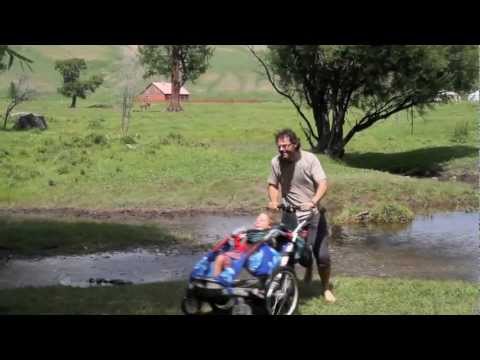 It also compacts very well. Here it is in the boot of our very little hire car,
on the back of a tuk tuk,
in the luggage rack of a Chinese train,
on a horse and cart,
and in a long-tail boat.
After 6 months, it needed a good wash down, and dried nicely in the sun. It has no major rips yet.
The Chariot issues
There are really only two downsides to Sparky's Chariot. The break is stupid. It's a foot break, and we can't reach it with our foot, because there's a bag in the way. We should have bought the next Chariot model up, which has a hand break. At the moment, we have to reach in with our hand and press the break, and it's getting stiff when clogged up with dust and grit.
Also, its hot inside. We were only in Singapore two days when we borrowed a knife from a roti man and cut the tinted black plastic sides out. Woops! Sparkies fingers' most relaxed position was now through the wheelspokes. We tried a bunch of ways of fixing this, and settled on using a sarong tied on Bear Grylls style; with rope tied around little stones wrapped in fabric. The sarong lets the breeze through nicely.
Apart from that, the Chariot is a winner!
Sparky's seat?
We wanted it to be "a removable seat that can go in cars and planes and on the back of elephants."
Well, it has been on an elephant.
Fantastic. Sparky also uses it to sit up at dining tables where ever possible. Here she is ordering the butter chicken.
Sparky sits comfortably in her seat in buses,
on trains,
and in tuk-tuks.
What about aeroplanes? No, this one doesn't work. There are lots of rules about seats on aeroplanes.
So, what do you do on planes?
On planes we do something else. We check the seat in, it fits nicely inside the chariot carry bag. Here's Chris packing it all away at check in. We do this in front of them as wheelchairs travel free, and they like to see that it is actually a wheelchair, not just a big sports bag.
We explored the CARES harness, but it was $100, and didn't actually offer additional postural support. So Sparky sits with the standard lap belt for anti-thrust, then she wears her collar for head support. But we knew her torso would need additional postural support so I sewed up an elastic strap with velcro tabs, like this.
It goes nicely around the seat back like this. We just have to smile sweetly at the person behind, as  everytime they want to use their tray it needs adjusting.  We put a full size pillow behind her, it helps with the whole arrangement (and we always have more heads than pillows in hotels, so use it all the time).
Sparky alternates between sitting like this, and having a cuddle, or lying down if there is space. So far, its worked really well.
The seat issues
The seat is just too heavy at 5 kg. We want to rebuild one out of fibreglass.  Chris does all the lifting, as I struggle with the weight, particularly the arkwardness of getting in and out of cars. Sparky plus seat = 25kg.  I'd love to be strong enough to lift 25kg many times a day, but I'm just not. It's on my list of things to do.
No, other issues or downsides. The seat is great, the covers are washable.  The whole thing looks cool!
Now, the most important thing we have saved to last.  Sparky's verdict! Chris interviewed Sparky about her Chariot:
Tell us about your Chariot.
My Chariot is red and I like it when Dad ties a blue sarong around it. My Chariot moves fast and can cross rivers. My favourite is racing along jungle paths. I think my Chariot is cool and special.
What do you like about traveling?
I love meeting people who want to talk with me, ask questions and chat. I like listening to stories on trains and I like the sound of riding in small boats. My favorite adventure was cruising through Halong Bay on a large boat with Grandma.
What do you miss about home?
I miss my family, grandparents and cousins. I miss visiting Aunty Ally and Uncle Allen. I miss Grandma's house. I miss church, friends and singing.
What is the most challenging thing about traveling?
I find it hard to play games with the others like soccer and scrabble. I can only play games like wrestling and piggy back riding. I also find it hard to play on the iPad.
We are really proud of Sparky, she's a great little traveler, always keen to try new things and meet new people.
Finally, the Chariot can't go everywhere. When the going gets too tough, Sparky rides on Chris' back in her Ergo sling.  Which of course, is even more fun!
Related posts: