Living in Ubud, our frequent day trips were pretty fun. Check out our car, it's a Suzuki Karimun, and fitting 7 of us inside was cosy, to put a positive spin on it.
We drove to the 'holy waters' and watched people trying to wash themselves pure and giving offerings, as their kids played around in the water.
We hiked alongside Git Git falls on our way to Banjar hot springs.
We saw lake Batur and wondered if the volcano would start doing something exciting…. it didn't.
Turns out, it was 'schoolies week' Bali style. Hundreds of school leavers covered their uniforms in spray paint and hooned around two or three to a scooter honking and yelling.
We visited the elephant temple and enjoyed being surrounded by mossy greenness. I felt like Legolas would appear from behind a tree and welcome us to the House of Elrond.
Instead we were greeted by stall holders who oddly thought we'd Iike to buy a hideous scary mask or some wooden carving. Someone needs to communicate to Bali-at-large that Australian customs WILL NOT allow wood stuff into Australia.
But, by far the MOST FUN outing we had was to the Bali Tree Tops, a high ropes course found within the Botanical Gardens at Bedugal. Not only was it fun, but Tintin, Meena and Snowy really did very well on the challenging levels of the course. It involved co-operation, coordination, strength balance and self control. We were really proud of them!
Chris (who is not keen on heights), Sparky and Baby Boy watched, cheered and filmed from below: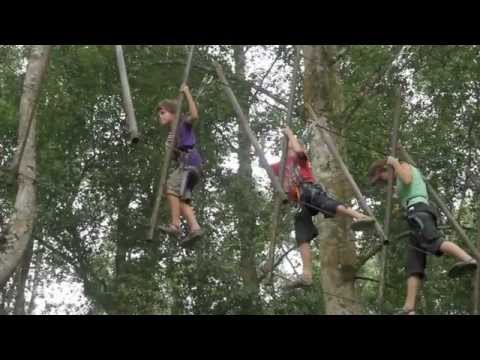 Related posts: