In our opinion, the best way to see Battambang is by tuk-tuk.
So much of daily life is lived outside, that there is so much to see just by slowing down and stopping here and there.
Here is a family business, the whole family is involved in making rice paper, thousands of pieces a day. Ground rice mixed with water is spread on a thin sheet of cloth over a steaming pot. When it has formed, it is hung on a bamboo rod to cool, and then dried on bamboo slats in the sun to dry.
Another road side family business made sticky rice snacks. Sticky rice, coconut milk and sugar are shoved into hollow bamboo sticks, rammed tight with banana leaves. These are cooked over a fire of bamboo offcuts, and this lady squats there and rotates them for 15 minutes. We bought one to try 3000 Riel, about 75cents. Its fun to rip bamboo apart with your hands, and taste the thick sweet chewy rice. Its a cheap, healthy snack , and comes with a biodegradable container!
According to our tuk-tuk driver, both these businesses make about $15 per day, which is not enough for a family to live on. Often someone in the family tries their luck as a motorbike taxi driver to supplement the income.
We visited a rice noodle factory, a few coal fires on a concrete slab in front of the house. Here is the rice boiling away, ready to be squeezed into noodles. People buy the noodles fresh each day.
At the market, we saw fresh cockles, pre-marinated with chilli, and large pile of ducks, gutted and ready to cook.
We stopped at a fish sauce factory, great piles of stinky fish were being gutted and washed ready to be minced up into fish sauce. The ladies squat barefoot for hours, gutting fish, for about $5/day.
Wherever she goes, Sparky attracts friends and admirers. She has always been a very gregarious non-verbal communicator, a skill that comes in handy when traveling!
And so does Baby Boy…
Or course, we couldn't leave Battambang without riding the Bamboo train. Old unused rail lines have been turned into a low-tech transport solution by the farmers. As there is only one track, the trains are made to be pulled apart and lifted off the track to let another train pass. In Battambang all they do is drive tourists up and down, but elsewhere in Cambodia the Bamboo train network is alive and well.
It's not very fast, but feels exhilarating, loud and just a little bit dangerous. A winning trifecta for little boys!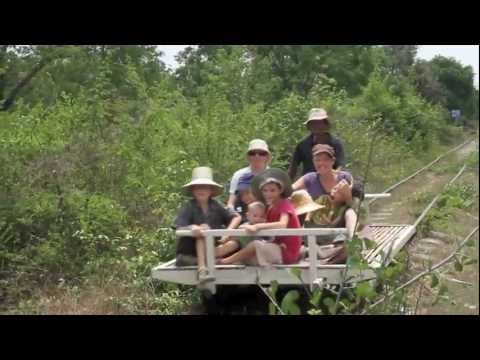 It has occurred to me that just hoofing around towns seeing how people spend their time is one of my favourite things to do.
Related posts: